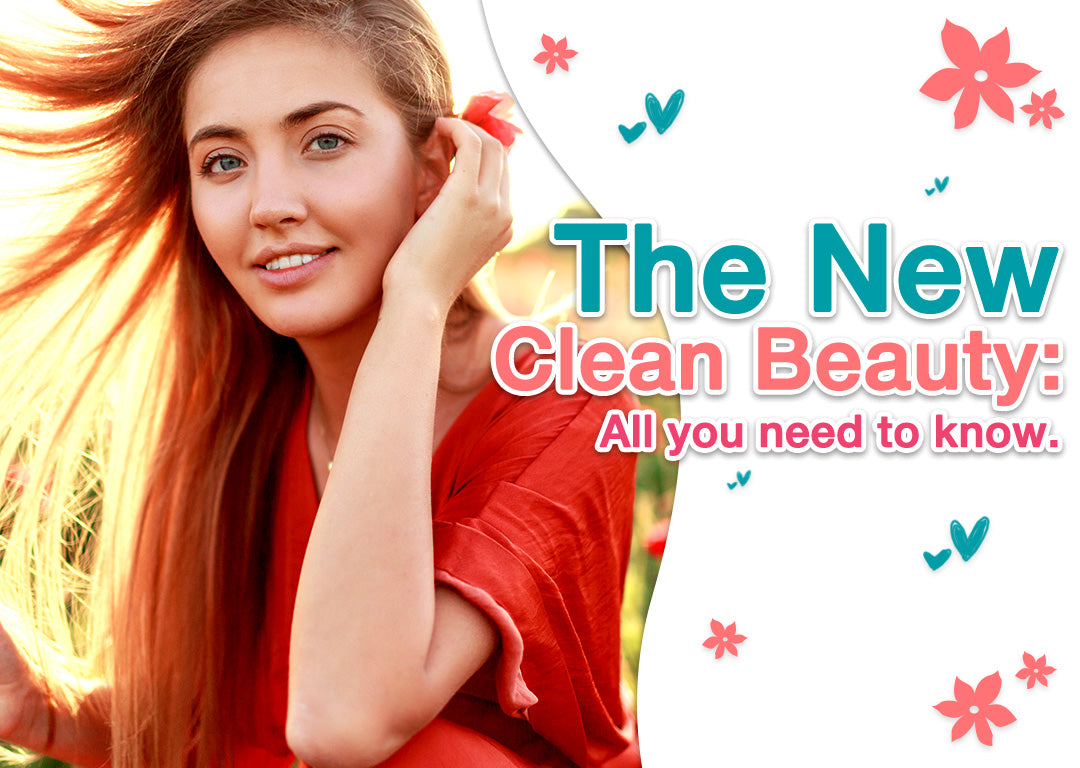 The New Clean Beauty: All you need to know.
The beauty industry is always birthing new trends. One minute, you're adopting K-Beauty aka Korean Beauty routine, another minute, you're advised to start practicing Skinimalism. Throw in the new wave of celebrities launching personal care products, and you'd see why it's difficult for us to know what's right and wrong.
The ever-changing beauty fads can take a toll on not just our skin but also on our environment. And that's why it is crucial for us to encourage beauty practices that are healthy for our skin, environment, and overall wellbeing. 
An ideal approach that promotes safe, sustainable, and healthy beauty habits is Clean Beauty. In this article, we'll talk about what the concept of Clean Beauty entails and why it is necessary.
What is Clean Beauty?
Clean beauty has no clear-cut definition. But to us, it means a lifestyle that incorporates personal care products that do not leave a negative impact on our health and the planet.
When defining Clean Beauty, we take the following factors into consideration.
Is the product vegan?
As advocates for clean beauty, we ensure that all our products are vegan. Our products are not tested on animals and do not contain any animal by- products such as gelatin or beeswax. Instead, we utilize plant-based alternatives that have been scientifically proven to be more potent with little to no side effects. 
 Plant-derived ingredients are super-enriched with antioxidants, fatty acids, minerals, vitamins, and other components that are required for vibrant skin.
The importance of switching to vegan products have numerous benefits; skin nourishment, anti-aging, soothing, healing, and enhancing skin radiance. In a nutshell, vegan products are safe and healthy for our skin, our environment, and the animals in our ecosystem.
 Our  Spotless set bundle for skin brightening and other pigmentation concerns, boasts of a range of plant-powered ingredients such as Ginseng Root extract, horse chestnut seed extract, Witch Hazel, and Comfrey leaf Extract.
Is the product natural?
When selecting a product that claims to be a "Clean Beauty" product, it is important to find out if it is truly natural. 
Natural skincare products are formulated with ingredients that are free from harmful chemicals or toxic ingredients. Some harmful chemicals found in certain skincare products have been proven to disrupt hormones and cause other health issues. Hence, it is crucial that we pay attention to what we are applying to our skin. 
Natural personal care products are healthy for our skin because they do not introduce toxins into our bodies. Also, natural ingredients do not emit harmful vapors into our environment like synthetic chemicals.
Is the product clean?
For a product to be certified "clean," it should not contain chemical ingredients such as silicones, pesticides, sulphates, phthalates, synthetic preservatives, dyes, and scents.
Our product lineup does not contain any form of artificial color, fragrances, or allergens.
Is the product sustainable?
Products that are friendly to our environment are classified as "Clean Beauty" in our books. To preserve Mother nature, we adopt   sustainable practices from sourcing ingredients and raw materials, manufacturing, packaging, shipping, and waste disposal. 
Our wide array of products are created with eco-friendly materials that are easy to recycle and upcycle. We also promote a zero waste movement. The packaging of Keratosis Pilaris, Acne Set, and Spotless skin sets are made up of recyclable material.
We are more than just a skincare brand, we are a holistic brand that ensures that we do everything within our capacity to honor the Clean Beauty initiative. Our goal is to create a healthier planet, a healthier ecosystem, and a healthier you.