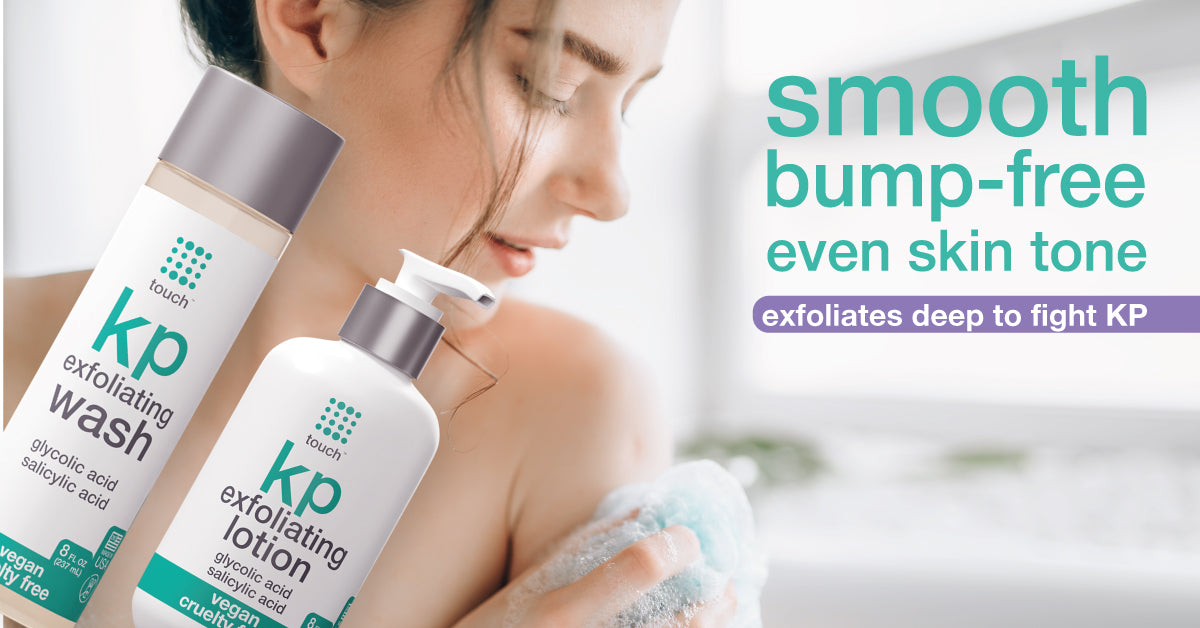 KP exfoliating wash & lotion
E. Brown - United states 
⭐️⭐️⭐️⭐️⭐️
Gave me my smooth arms back!!!
I rarely give any products 5 stars but this really worked wonders for my arms. In one week I could tell a huge difference!! (As seen in attached picture) I've always exfoliated and moisturized but could never get rid of the unpleasant bumps. Nothing is more sexy when your cuddling with your husband and he says ,"jeez babe...What's wrong with your arms?" Or not being able to wear cute sleeveless tops in the relentless southern heat. I've spent hundreds of dollars on all these lotions that promise to get rid of rough and bumpy skin so I was reluctant to buy this. But I'm so glad I took the chance!!! I know that this lotion really only helps you stay on top of your kp so eventually I'll have to buy more but it's worth it!
Leah - 
United states 
⭐️⭐️⭐️⭐️⭐️
Absolutely love this. I have been insecure about my arms
UPDATE!

Absolutely love this. I have been insecure about my arms. I tried another product similar to this but it really didn't do much. So after a week of using this one I saw a change! After two weeks my arms got a bit flakey, so I stopped using it. I thought it was making it worst! I was wrong, I used it once more after a week of break and BAM, the redness was disappearing.

It's actually working!

Tip: applying coconut oil after also helps!

I attached a before and after

3 weeks

It is absolutely gone on my left arm! My right arm is taking a little longer due to it being the worst.
Nikki Hipps - United states 
⭐️⭐️⭐️⭐️⭐️
Works!!!
I used this along with the Touch Lotion and it has done in one week what 3 dermatologists have been unable to do in three years. It has almost completely cleared up folliculitis on my back. My heels and elbows are soft. My skin feels great. It has softened the leathery appearance on my arms from too much sun. The crusty bumps on my shoulders are almost gone. I will buy this again!!! I'm Irish, fair, sensitive skin and the lotion has a mild stinging sensation only on my back where the folliculitis was a problem.
Shelia S. - United states 
⭐️⭐️⭐️⭐️⭐️
It really does works!!
I use this with the body wash and holy cow, something that actually works. I still have redness but most of my bumps are GONE. My wife will rub my arms and say man that feels smooth! Lol, I recommend it to anyone. It actually works. You just have to keep up the regimen!
Rhyann Clark - United states 
⭐️⭐️⭐️⭐️⭐️
Love This!!
I bought this along with the exfoliating lotion as well and i really didn't expect it to work that well! Excuse the gross picture of my legs but the before picture is from May 9th and the after picture is from June 26th. I haven't even been using it everyday.

Only thing i would suggest is making a scentless option for people with extra sensitive skin like mine, scented body wash always makes me break out/itch a bit on my arms.

Overall a great product and the only thing thats worked for me so far.
VeryRichGirl - United states 
⭐️⭐️⭐️⭐️⭐️
I'm a believer!!
Seeing major results after only one week of once a day use. I never thought these spots would fade!
Joseph Chang - United states 
⭐️⭐️⭐️⭐️⭐️
Where have you been my whole life!
My last dermatologist told me to use a stronger glycolic acid lotion, at least above 10%, so I searched on google and that's how I found this. At first I only saw a slight improvement, but I have been using for just over three months now and my KP has almost disappeared. I use a nickel size amount on each arm twice a day. I still have a few discolored bumps here and there, but the important thing is that MOST of the bumps and redness is gone so no one even notices anymore. If you've ever used glycolic acid lotion before you know they have a very unpleasant smell, the great thing about this lotion is that it smells so good so you don't have to worry. Don't expect this product to work overnight, but within a few months time you should be very satisfied. The before and after picture is about 3-4 months apart.